I have been using Nextcloud as a cloud for personal use for over 7 years. I've written a few blog articles about it in Czech, but the last one is from 2018 and a lot has happened in the Nextcloud world since then, so I decided to revisit the topic.
When I started Nextcloud back in 2016, it was still seen as a replacement for Dropbox. Just a place to keep your files, share with others, etc. It had already outgrown its capabilities back then, and that's doubly true today. Nextcloud now sees itself as a "content collaboration platform". I would go further and call it a platform for running web applications in general. This also reflects the name change to Nextcloud Hub that took place a few years ago. If I was using Nextcloud quite fully in 2016, today it far exceeds my needs with its capabilities and app offerings.
Files
Many people are still fixated on Nextcloud being used to sync files between computers. The Nextcloud desktop client can indeed sync files between your computer and Nextcloud, so syncing between different devices in this way is possible. But if you just need to sync files between devices, Nextcloud is not the ideal tool for that. Tools designed for this, such as Syncthing, will do a better job.
I've actually never used synchronization between a local drive and Nextcloud. I didn't think of it as a remote copy of the local disk, but as a remote storage that extends the disk on the computer. I typically access files in Nextcloud through the Nautilus file manager, where I have it bookmarked as an additional drive. That means I work with remote files, but unless I'm on a downright slow connection and they are large files like videos, it is almost indistinguishable from working with local files.
The files I have on Nextcloud are those that I want to access quickly from anywhere. Since I'm limited by the 120 GB disk on vpsfree.cz, I can't have absolutely everything there. I don't use it as a backup. I also have a Synology NAS at home with 3 TB of disk space, which I use for multimedia and backups. The most important things are then backed up from it to a special remote backup drive.
Documents
When I started using Nextcloud, it only had basic document capabilities. That has changed significantly since then. Nextcloud hasn't gained more advanced document handling capabilities on its own, but through collaboration with others. The integration with OnlyOffice was the first to appear. Eventually Collabora Online, which is LibreOffice Online from Collabora, was added. This became the default choice over time and is also my preferred solution.
The two solutions work very differently. OnlyOffice converts documents to json and then sends that to your browser, where it loads a thick client that contains most of the logic for working with documents. The advantage is the lower transfer rate requirements, the disadvantage was that OnlyOffice keept the files in its own database, not as files in Nextcloud. If you wanted to keep a document as a file, you had to export it. So OnlyOffice sort of ran in parallel alongside Nextcloud instead of being integrated into it and working with its files. This has changed, I was told, but when I tried OnlyOffice now again, it still didn't feel as integrated as Collabora Online.
Collabora Online behaves like a standard office application, working directly with files in Nextcloud and saving changes to them as well. You can combine it with the desktop LibreOffice (or any other office suite), too. You just have to make sure that you don't have several users working on the document at once, because in that case Collabora Online doesn't handle conflicts the way it does when users access the document only through it.
Collabora Online has additional advantages: in cooperation with Nextcloud, it has acquired an interface in the form of Nextcloud Office, which visually fits very nicely into Nextcloud and adapts to small displays, so it can also be used in the Nextcloud mobile app. You can install Collabora Online in the form of a Build-In CODE server with one click, which was not possible before. This solution is sufficient for several users. If you want something more scalable, you need to have Nextcloud connected to a full-fledged Collabora Online server instance, but that requires significantly more resources.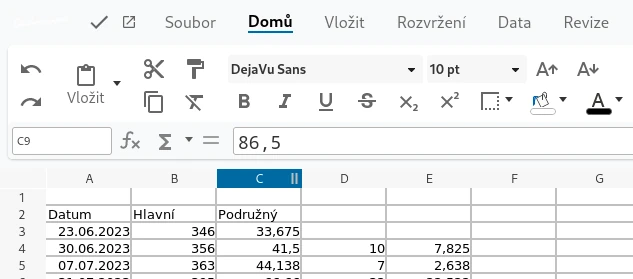 The downside of Collabora Online compared to OnlyOffice is the bandwidth requirements. The editor itself runs on the server and only sends thin clients what to display. Sending bitmaps is of course more demanding than sending text json, and on slow connections this can be noticeable. But when I need to work more with a document, I open it in the desktop client. I use the web interface for quick browsing and editing, and minor lags on slow connections don't bother me.
Photos
Today, photo management is one of the obvious parts of a personal cloud. With a mobile phone today, we generate tons of photos and need to back them up and organize them somehow. I used to use Nextcloud for photos primarily, but as I write above, due to limited available space, I moved my multimedia to Synology NAS primarily. Today I use Nextcloud primarily for photo sharing. When we have an event, I make a folder where everyone uploads photos and shares them together. Nextcloud in the data center has much better connectivity for this than the NAS at home.
I used to back up photos to Nextcloud. The Nextcloud mobile app takes care of that and it works nicely. I took a photo and as I connected to WiFi, it backed up to Nextcloud. The photo management itself was really basic in Nextcloud for a long time, but a few releases back they completely redesigned it and now it has pretty much everything you'd expect from such a tool: built-in editor, albums, sorting by location, tags, date… It can also recognize people, objects and famous monuments in photos.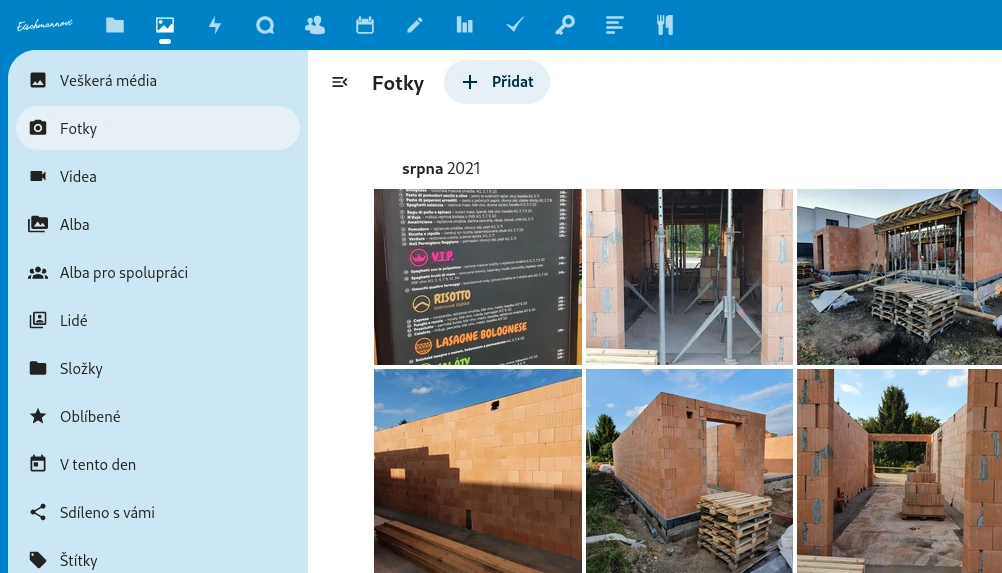 Nextcloud can do all this on your computer, you don't have to hand your photos over to anyone for analysis. But analyzing photos and recognizing people and objects are also computationally intensive. It requires 4 GB of RAM, which is exactly what I have for the entire VPS, which is why I don't use it. Otherwise, if you're not comfortable with the default app, you can use an app like Memories, which organizes photos primarily not in albums and folders, but a timeline like we're used to from mobile apps.
Contacts
I have maintained my contact list exclusively in Nextcloud since the very beginning. And it just works. I can access them from the web interface, but Nextcloud also supports the CardDAV protocol flawlessly, so they sync to my desktop and mobile as well.
On Linux, I have contacts thanks to evolution-data-server. After I log in to Nextcloud in GNOME Online Accounts, I can work with my contacts in the Contacts app or in Evolution, or I can search them directly in the GNOME Shell.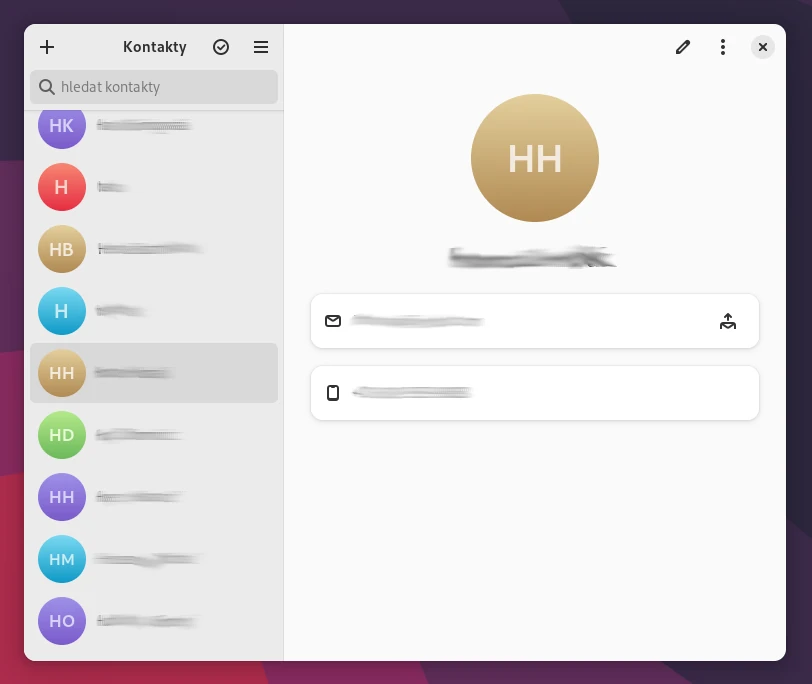 Android does not support CardDAV by default, but you can install the DAVx5 app, which Nextcloud officially recommends. It's free in F-Droid, and for a small fee in Google Play. DAVx5 made not only my contacts, but also my calendars and tasks available in Android. I can then work with my contacts on my phone in any dedicated app, Samsung Contacts in my case.
When it comes to contacts I also tested on a very real situation that Nextcloud is not a backup. My mom somehow deleted all her contacts on her phone, and this deletion synced very quickly to Nextcloud and other clients. I had to retrieve a backup of Nextcloud itself to get her contact list, that was built up for year, back.
Calendar
A personal calendar is an important element of time organization for me. Like contacts, I have been using it in Nextcloud since the very beginning. And as with contacts, Nextcloud supports the standard protocol, in this case CalDAV, very well. Thanks to GNOME Online Accounts and evolution-data-server, my calendars are then automatically displayed in Evolution or GNOME Calendar on the desktop and, thanks to DAVx5, which handles CalDAV in addition to CardDAV, also in the mobile calendar app.
We've been using Google Workspace at work for a few years now, so I can compare, and I have to say that while I've had countless problems with Google's calendars in third-party tools, Nextcloud's calendars have always worked flawlessly with them. Of the other features, I mainly use the sharing of calendars with other family members. However, Nextcloud calendars can do much more thanks to the integration with other tools. For example, you can create a conference room for a meeting in Nextcloud Talk, etc.
Actually, there's only one thing missing: when I add an external calendar to Nextcloud via a link to an .ics file, Nextcloud won't promote it to third-party clients. So I have to set it up again in each of them.
Tasks
I also use Nextcloud for tasks I don't need anything sophisticated, just a classic todo where I can quickly enter a task and set a deadline. I use it for both personal and work tasks. Nextcloud treats tasks like a special calendar, so they too can be synced between different devices thanks to the CalDAV protocol.
On Linux, I have tasks available again thanks to evolution-data-server. I can work with them either in Evolution. Or Endeavour that only focuses on tasks. I could find use for a few extra features, but it handles the basics I require. The problem with Endeavour is that development has stopped. It uses out-of-date versions of libraries and I may have to abandon it soon. Recently, a new application has appeared that has support for Nextcloud – Errands. However, it can't set completion dates yet, which is essential for me, and it also can't work with multiple pre-existing to-do lists, but creates a new one, which is not ideal either.
I used to use the OpenTasks app on Android, but it never really worked for me. I switched to Tasks.org a while ago and it suits me much better. It has a clearer interface and has more features. And one is really a killer feature: it can alert on tasks not only based on time, but also based on location, so it handles even tasks that are defined by location and not time of completion, like: when you're in town, stop to buy…
News
I have been using RSS to follow news and articles for many years. I used to use the built-in reader in Opera, but then I switched to Firefox and as I started reading news on different devices, it didn't make sense to use something that couldn't sync between them.
So I switched to Feedly, but as I started using Nextcloud, I moved my RSS reader to that as well and started using Nextcloud News. I still use them to this day and I'm perfectly happy with them. I can read them from my laptop, mobile phone, or anywhere via the web interface. The read/unread articles sync so I can always pick up on one device where I left off on the other.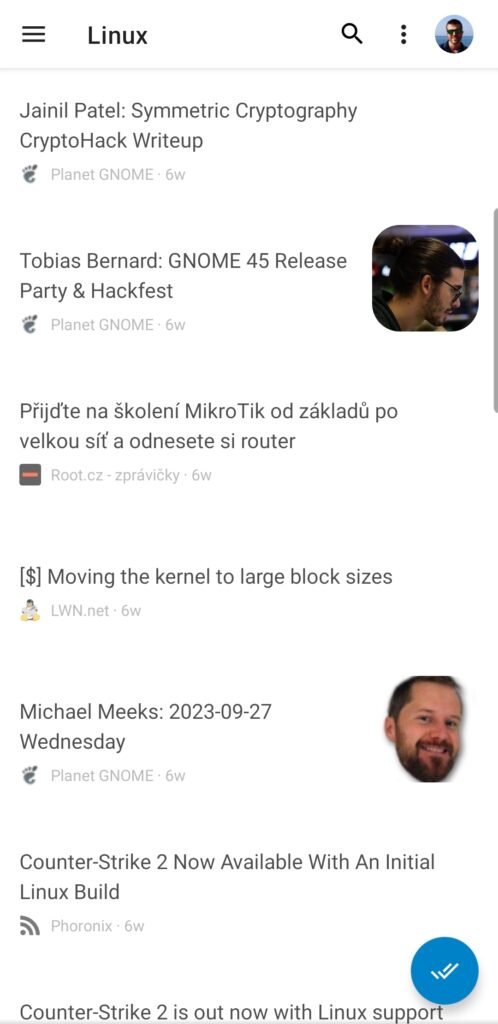 There is a Nextcloud News app for Android, and on Linux I use the NewsFlash app, which is, in a word, excellent. It has a modern and simple interface that also adapts well to the screen size, so I use it to my full satisfaction on my Linux phone too.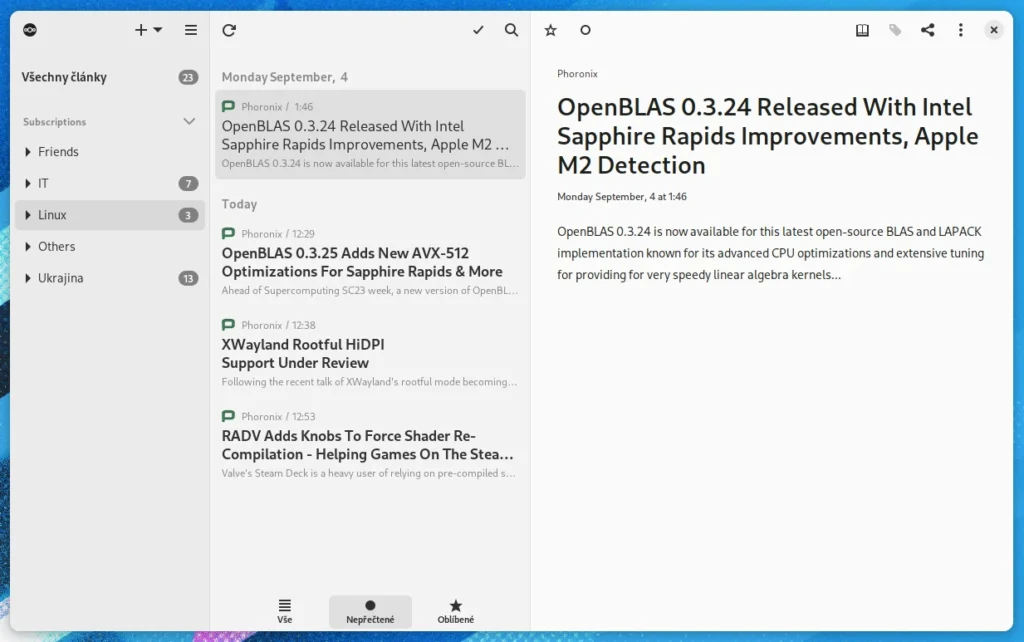 Passwords
I try to follow basic security rules, so I deploy two-factor authentication where possible, and have used unique strong passwords for years. This can't be done without a password manager. At first I used 1Password for this, but with the move to Nextcloud I switched to Passman. It still exists today, but it had development activity issues at some point and I decided to switch to Nextcloud Passwords, which I like better in the form both of the web interface and the mobile app.
Nextcloud Passwords have the usual features like warnings that the password has been leaked somewhere. It allows different levels of encryption up to end-to-end encryption. I also like sharing passwords with other Nextcloud users. There's also a web browser extension that autocompletes the login credentials, but I use the login manager directly in Firefox for that, so I don't use it. There are three Android apps for Passwords, and the newest one in particular is excellent – small, simple, fast. There's also a Linux app, but again its interface doesn't suit me, so I use the web interface on my computer.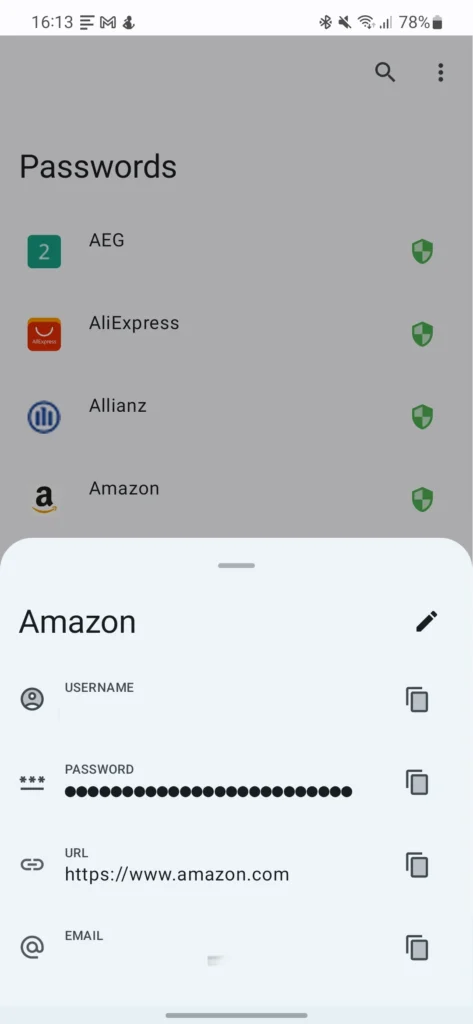 Notes
I also use Nextcloud for personal notes. Nextcloud Notes are quite simple compared to Evernote, but they are enough for me. They can be formatted decently, I can add pictures and other attachments. Actually, the only thing I miss is that they don't have subcategories to organize them better. On the other hand, I like that they are saved in the /Notes folder as markdown files and can be worked with outside of the notes app itself.

Previously, Nextcloud Notes worked in GNOME Notes (Bijiben), but that application has been out of development for a few years now and support for Nextcloud has broken. So I have to work with the web interface on the desktop. For mobile, there is a Nextcloud Notes app that provides the same functionality, just in an interface tailored for small screens.
Calls & Chat
Nextcloud also offers the ability to chat and call using the Talk app. I primarily use Telegram and Signal, so I admit I don't use this option much. Until Telegram was able to make (video) calls, I had used Talk for that. In order for calls to work through NAT, one must still have a Coturn TURN server on the server. Then it works reliably and nicely.
Talk makes sense especially in an organization that already uses Nextcloud and needs something for internal communication. The authors have recently been focusing on integration with other tools in Nextcloud. For example, you can upload a document to a chat room etc. It's not that useful for private chatting, because even though it uses XMPP internally, it can't federate, and in general XMPP is rather rare nowadays compared to other services. There is a mobile app available.
Others
This is not a complete list of what I use in Nextcloud. I also use the polling app from time to time. Like when we need to make an meetup. Instead of Doodle, I can just create a poll in Nextcloud and others can vote in it without having to register.
I'm not much of a cook, but I use Nextcloud Cookbook for my few recipes. The nice thing about it is that I can write the recipe on my computer, but it also has a mobile app so I can just look at my mobile while I'm cooking.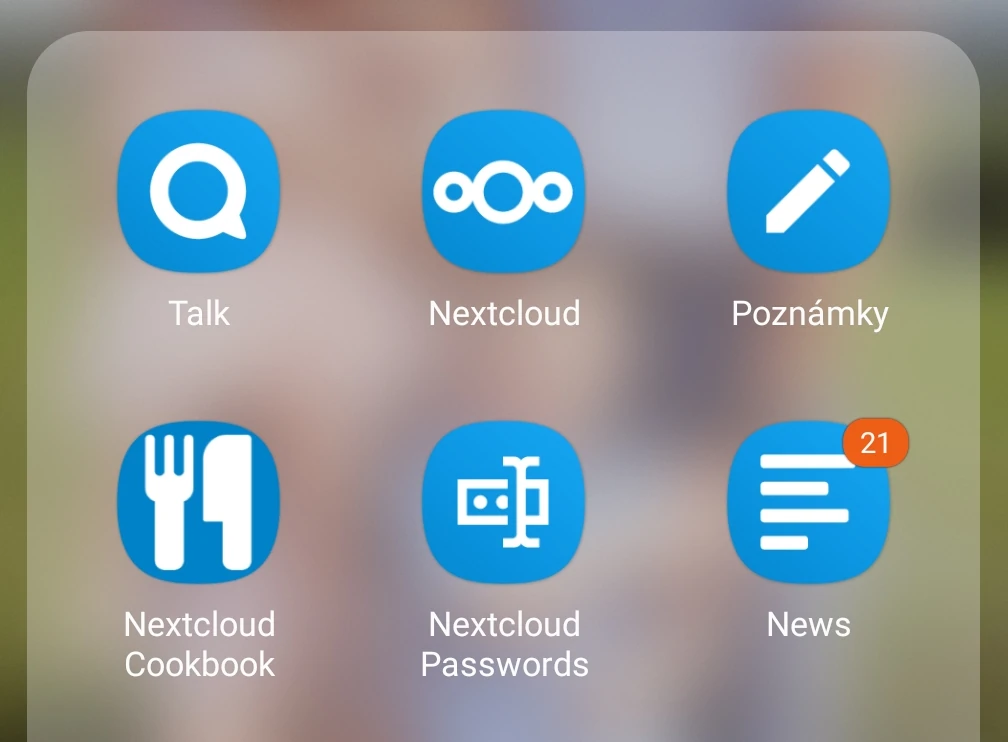 Many Options
This is what I use, but Nextcloud is already a really broad platform for which there are dozens of apps and everyone can find their own mix. But it's still true that, unlike other personal cloud solutions, you're in control of the data. I run Nextcloud in-house and I have to say that once things are set up, it is a nearly maintenance-free thing. The installation has gone through countless upgrades over the 7 years and has been virtually problem free.
Not everyone has the knowledge and desire to run Nextcloud in-house. There is a solution for them in the form of Nextcloud as a service. So far, the best value for money I have seen in terms of capacity/price ratio is Storage Share from Hetzner. You can get a 1TB disk with unlimited users and 50 concurrent connections for 125 CZK per month, which is a very good value for money even compared to offers from giants like Google or Microsoft. You just need to take into account that this is really Nextcloud as a service. You can only do administration inside the installation, but you can't get to the installation file, database, etc., so there's no easy migration to somewhere else. If you want more control, you can choose another one of the dozens of providers.
The article was originally published on my Czech blog.